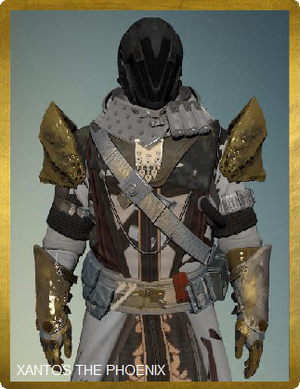 Xantos, known as Xantos the Phoenix, was a Human Sunsinger Warlock, a Guardian of the Last City, and member of the Conduits of Light, formerly a disciple of the Praxic Order of Warlocks.
Biography
Edit
Personality and Traits
Edit
Equipment
Edit
Notes and References
Edit
Praxic Order follows the Praxic Creed, which states the Guardians should not concern themselves with the nature of the Darkness and focus instead on methods to resist and defeat it, counter-intuitive to the nature of Warlocks to inquire as to the nature of the universe. It was, however, the most powerful of Warlock orders, including members such as Toland and Eriana-3, which was Xantos' reason for originally joining them.